Frontispiece of the "Hunting Book of Duke Johann Casini
January: Setting-out for the hunt
February: Coursing behind red deer
March: The boar hunt
April: Digging for badgers
May: Breaking-off deer-stalking:
June: Battue on ducks
July: Coursing behind wild boars
August: Partridge shooting
September: Hunting feast
October: Hounding red deer
November: Bear-baiting
December: Interior of hunting-seat of
Duke Johanne Casini





(THE ABOVE COVER VIEW IS NOT A PHOTOGRAPH BUT A ONLY RE-
DUCED PHOTOCOPY TO SHOW THE BASIC FORM OF THE CALENDAR )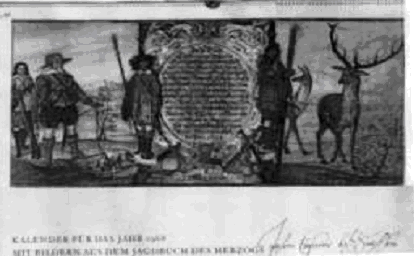 This unique calendar was published in East Germany in 1968. It is based on the hunting theme and the motifs were culled from the "Jagdbuch des Herzogs Johann Casini von Sachsen-Coburg", (The Hunting Book of Duke Johann Casimi of Saxe-Coburg). This work was created between 1639 and l646. Credit for it is given to Bayreuth painter, Wolf- gang Birckner (born about 1580). From the total of 39 foolscap-size sheets, partly in body colours, partly in water colours, the titles of the paintings chosen for this calendar are shown on the left.
An important historical piece would do well if placed on e-Bay for auction.