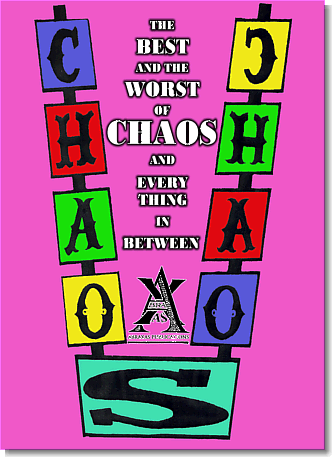 NEWS
BIG NEWS
Over 438 pages of BIG, BIG NEWS!!!
Some magicians said that it COULDN'T be done.

Others said that it SHOULDN'T be done.

Still others said that it WOULDN'T be done.

They were all wrong!
The complete file of CHAOS, the underground magic magazine has been reprinted in good clean type, including the original 36 issues and a 37th issue of out-takes, with 37 Supplement Pouches, all arranged and paginated in sequential order. Many other details will be found on our web page.
A NOTE TO COLLECTORS
AND MAGIC INVESTORS
THE FIRST 20 COPIES WILL BE NUMBERED AND THE NAMES OF THE COLLECTORS WILL BE SHOWN IN EACH ISSUE AS IT IS RELEASED. ALSO, THE 20 COPIES WILL BE SIGNED BY MICKY HADES, THE AUTHORIZED COMPILER OF THIS RELEASE, MAKING IT A UNIQUE AND INVALUABLE INVESTMENT.